Price

RM8.95

RM19.90

Product SKU
WDLBPMW95
Brand
Loreal Paris
Size (L x W x H)
3 cm x 3 cm x 10 cm
Availability
In Stock
Quantity
Description
Highlight
95ml
Removes even long lasting and waterproof makeup in 3 seconds
L'Oréal Paris Bi-Phase Micellar Water has micellar molecules that work efficiently to dissolve impurities and remove all make-up, including long lasting and waterproof makeup in one step. All makeup can be gently removed in three seconds with no rinsing or double cleansing required. It is safe to use for your whole face, even around sensitive areas like the eyes.
Makeup lovers need not worry about irritating their skin as there is no oil, no fragrance and no alcohol. It is also dermatologically tested, so people with sensitive skin are able to use it without fear of aggravating their skin.
TEXTURE: Watery texture, skin is left feeling clean and moist without greasiness.
INNOVATION: BREAKTHROUGH BI-PHASE MICELLAR TECHNOLOGY
The new L'Oréal Paris Bi-Phase Micellar Waterhas two layers that enable the removal of all types of makeup, even waterproof makeup.
(1) Micellar layer: This layer is made up of tiny micelle particles suspended in soft water. These tiny particles cluster together to capture dirt, oil, makeup and other impurities without drying out your skin. Acting like a magnet, impurities are lifted off your skin, leaving it thoroughly cleansed with no additional rinsing required. The effectiveness of these breakthrough micellar molecules guarantees a gentle cleanse that requires no harsh rubbing even for heavy makeup!
(2) Cleansing layer: This unique formula specifically removes waterproof makeup while hydrating and moisturizing the skin. The best part is there is no presence of "nasties" in the formula – no oil, fragrance or alcohol – to irritate even the most sensitive of skin types.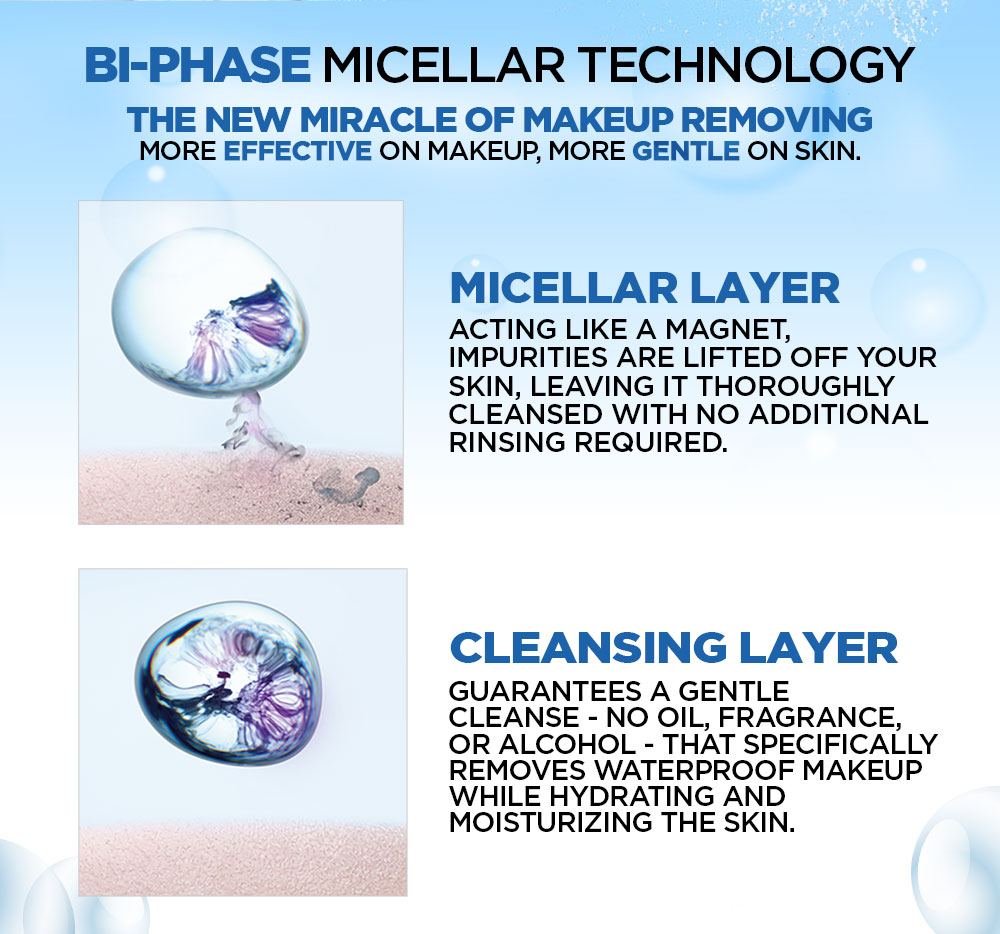 Reviews (0)
view all
back
What's in the box
1 BTL 95ML LOREAL MICELLAR WATER